Not Just Another App

Empower your entire fleet with custom workflows, route optimization, 
photo on delivery, barcode scanning and more
Effortless Onboarding
New drivers can be up and running in a matter of minutes, after downloading the all from Google Play or the Apple App Store. New driver training is simple and self-guided, and with just a few quick pieces of information, they'll be ready to begin handling shipments.
Get to Work Fast
Drivers can easily check in or out from the app, alerting dispatch of their status, and instantly placing them in the queue to receive new shipments.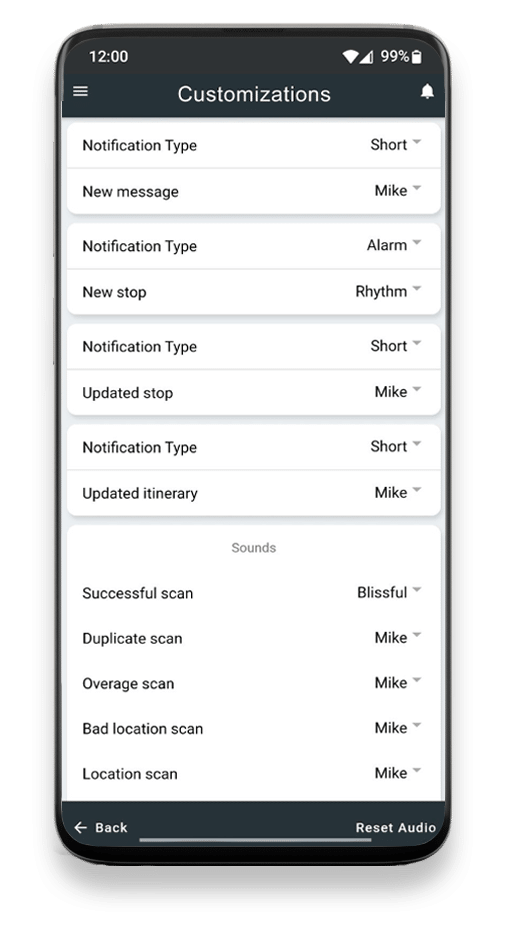 Empower Drivers with Customized Workflow
With customized notifications, sounds and the ability to to adjust how stops and workflows are displayed, drivers can fully personalize how they interact with the app. Simple one tap options keep turn-by-turn directions and phone calling right at a driver's fingertips.
Set Up for Success
While on the go, drivers can add status codes to shipments (left at the door, damaged box, etc.) and report them later; update pieces and weights; and capture pictures and signatures for proof of delivery. And, simple parcel barcode scanning using the app will automatically locate and open the stop, allowing drivers to problem solve in real time.
Required Task Completion
When enabled, drivers will be required to complete specific tasks without forgetting. With GPS requirements, drivers are not able to proceed until they turn location services on, ensuring you know exactly where the driver is at all times, regardless of who owns the phone.

Your Data is Always Secure
Never miss a shipment update when a driver is out of cell range. With store-and-forward built in, all completed work will transmit securely as soon as the driver is back in range. All data is encrypted with the highest levels of security and transmitted safely to the cloud.