Have you ever wanted more than a manual?
We think the best way to learn something new is to actually work with a real person who will listen to your needs and guide you.
Unlike other software providers, what sets CXT Software apart is that we're your partner in success. We don't dump links to manuals and KB articles on you and consider that training, instead we walk you through an instructor-led training which ensures you learn exactly what you want to know.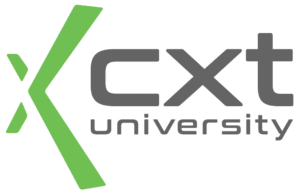 CXT University is our complete learning system featuring quizzes, progress meters, videos and more designed to aid in onboarding new team members in you company.
When you sign on to use our industry-leading solutions your first year of CXTU is included for FREE. If you decide you want to continue afterward, we offer a low cost subscription which you can start and cancel at any time.
Are you an existing client looking for a way to train your new people how to use CXT Software?  Send an email to your Account Manager or contact Technical Support and we will get you signed up.